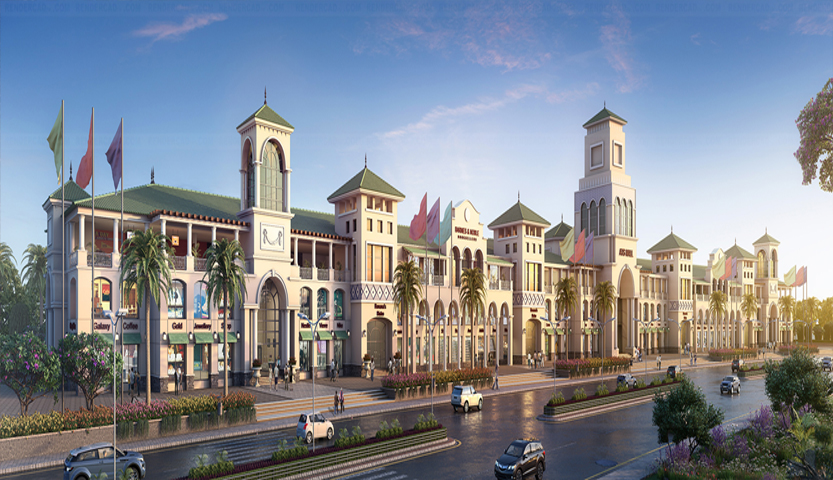 ATS Khyber range is a one stop shopping destination at Ghaziabad. It is known to be a shopping paradise that makes it one of the best in realty sectors and is designed for the future workforce. The well managed development by ATS Infrastructure Ltd has come up with retail spaces and also high end shopping complex with giving an exclusive environment for all types of outdoor spaces, restaurants and cafes. ATS Khyber Range is also known to be one of the most developed shopping destination spread in an area of 3 acres that is known for premium high-street retail space along with well suited entertainment destination.
ATS Khyber Range is known as a development alongside NH-24 and has many of the residential development near to it that makes it a great place for investment as well. ATS Khyber Range is also well known with offering better footfalls because it has Eastern Peripheral Expressway passing through it. ATS Khyber Range has also a RERA registration that makes it a well managed shopping complex adding trust to the investors. ATS Khyber Range gives a better sense of security because it has mounted cyber camera everywhere and is also having strategic location because of Columbia Asia Hospital very close to it. ATS Kingston Heath Noida / ATS Pristine Golf Villas Noida / TS Pristine Noida
ATS Khyber Range has on offer premium retail space in the form of shopping area, retail shops, place specified for large restaurants chain and fine dining restaurants along with 6 screen multiplex. ATS Khyber Range gives unique features with well connected amenities and also it has dedicated parking slot available in the basement area. ATS Khyber Range offer 24*7 automated emergency power systems in the form of water supply and electric supply which serves as the basic needs of the shoppers and customers. ATS Khyber Range is also known for the multi level parking with security alarms at every entry and exit gates.
ATS Khyber Range is connected with proposed eight lane highways and metro connectivity and has some of the best location access. ATS Khyber Range has best of the location as it is near to Crossings Republic, Wave City, Lal Kuan and even Raj Nagar Extension along with all sprawling areas of Ghaziabad. It has domestic airport in the form of Hindon airport and the upcoming Jewar International Airport is also close to it. ATS Khyber Range has Kavi nagar and Bulandshahar also very close to it and the Merrut is not far away. Even the Haridwar Dehradun Expressway is also very close to it and the development of RRTS is also offering nearby connectivity to it.
ATS Khyber Range is having some of the best floor plans as Ground floor, First floor, second floor and third floor makes it one of the destination with maximum shops on offer. Even the basement area is well specified and the look is great with swanky shops with full illuminated features adding more to the lifestyle stores. ATS Khyber Range is one of the best destination for shoppers and it is good to invest here if you look for good return on investment.