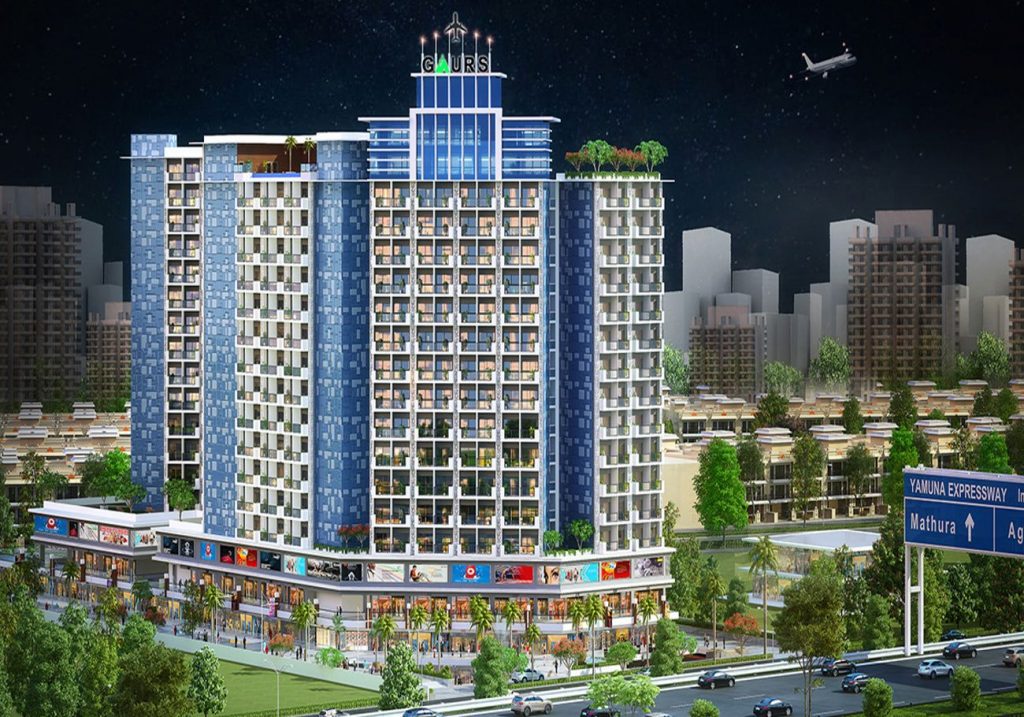 Gaur Runway the Suites is a premium residential project that comes within an integrated township as Gaur Yamuna City. The project is spread in an area of 101 hectares that is more than 250 acres. It is within proximity to Yamuna Expressway which is one of the proficient highways. It is 165 Km long access control highway connecting Agra, Mathura to Noida. The project comes as one of the biggest amalgamation of commercial, residential and retail outlets that fulfils the needs of the buyers and investors. The project area offers apartments, plots, retail shops, theme villas, studio apartments, sports amenities and many other necessary aspects. Gaur City 7th Avenue price / Gaur city 5th avenue price / Gaur city 1st avenue price
Gaur Runway Suites is spread with 9 acres of developments and the key master planning is done by RSP, Singapore. It has more than 3000 flats ready for possession in 16th Parkview that makes it easier to develop homes at affordable prices. The project has India's tallest statue with Lord Krishna that stands at 108 feet tall atop a temple. It has under construction Gaurs International schools that makes it easy for the like-minded students to flourish under one big educational umbrella. The project adds as rain water harvesting system, sewage treatment plant and solid waste management system. It has necessary facilities as petrol pump, cultural city centre, milk booths and convenient shops, hospital, nursing homes and dispensary. It has crèche and play school and has commercial buildings that makes it a project that fulfils necessities.
Gaur Runway Suites is more of a contemporary name as the project is very near to the upcoming Jewar international airport. The project adds to the necessities and developments that makes it with eco-friendly homes and is near to Pari Chowk, F1 Track and colleges, corporate offices. The project is well plan with 1 BHK apartments that has kitchen, bathroom, bedrooms, hall. It has 1 BHK range and has beautiful space of 42.76 sq ft which makes it a cozier space ideal as residence purpose. The project has amenities as high speed elevators, cctv, tile flooring, coffee shops, gym. It has multiplex, multi-sides opening, air conditioner, cctv area, wi-fi etc. The site has best of the garbage collectors, rain water harvesting system, car parking, banquet halls. The project has price that is available on request.
Gaur Runway Suites has lake Yamuna park, children park, picnic spot, boating facilities, food court, lake promenade and bird watching area. The project has fire fighting services, rooftop swimming pool, multi-level car parking, rooftop club. It has restaurants, 24*7 security, service lift and very close proximity to metro station. It has best of the specifications with ground floor that has suites and landscape terrace. It has 1st to 11 floor as suites and 12 floor as suites and services. The 12th A Floor suites, infinity pool, club and landscape party terrace. It has ample number of units per floor and every homes have air condition with floor to floor height of 3150 mm for suites. It has lobby and common areas, suites, basement area and landscaping that suits the needs of the residents.