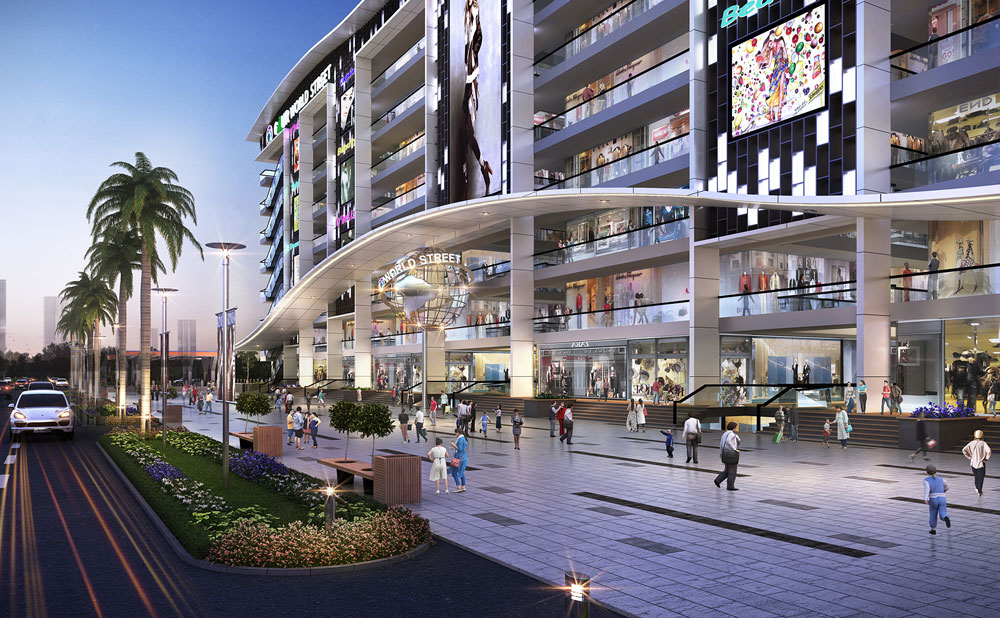 Gaur World Smartstreet is a commercial project that has come up as an iconic office space, retail shops and high street shopping complex that adds to the lifestyle shopping. It is known to be a great project that is by a renowned builder which is Gaursons. The best of the project is known as biggest commercial hub in Noida. The best thing about Gaur World Smartstreet is that it earns up-to 12% return on investment. Gaur World Smartstreet is known to be a commercial development that has a completion of September 2027. It is known to be a great business destination that comes with strategic location and with that comes additional benefits. Gaur City 14th Avenue flat / Gaur City 4th Avenue flat / Gaur City 7th Avenue flat
Gaur World Smartstreet comes with huge space of food courts and it is already known to be a good business to provide better quality foods through well managed outlets. The business complex also has retail shops that ranges from 137 sq ft to 800 sq ft and the business comes with retail shops or office spaces. It turns to be one of the best investment with better price per square feet. It also comes with location advantage as it is at Sector 16 the heart of Noida Extension. It has nearest metro station which is within walking distance and is located on 130 meter wide road project. It is 2 minutes drive from gaur Chowk Noida Extension and 6 minutes drive from Sector 52 Metro station. Also, GIP Mall Noida, Ghaziabad Railway station and Noida City Center are too close to it.
Some of the well known project amenities are as car parking, earthquake resistance, fire fighting, gymnasium, indoor games, 3-tier security, 24/7 power back-up, maintenance staff that certainly makes the project one of the best in class with comfort and lifestyle. The project area is spread over 5 acres of pristine area and the property comes with retail spaces, food courts, office spaces, kiosks and spaces with entertainment areas. Gaur World Smartstreet has one of the best residential development as Gaur City which is another major lifestyle project in close vicinity. It is also connected with better roads and highways and Noida- Greater Noida link road.
Gaur World Smartstreet comes as the property that is known to have strategic location, spacious business spaces, smart amenities making it a complete project. It also has spacious business spaces along with wide range of sizes and spaces that makes it one of the ideal project for buyers. Gaur World Smartstreet has some of the best floor plans that adds to the interest of the buyers. Gaur World Smartstreet Noida Extension gives you higher return on investment that makes it commercially viable for the buyers. Gaur World Smartstreet makes you get the benefit of higher financial attitude that lets you add new world order to your business as everything here is getting carfted with new possibilities.
Gaur World Smartstreet will open new opportunity of advanced digital commerce establishments, leisure and community spirit, food and beverages, lifestyle stores and gaming zones that will make it a complete project fulfilling all necessities under one roof.