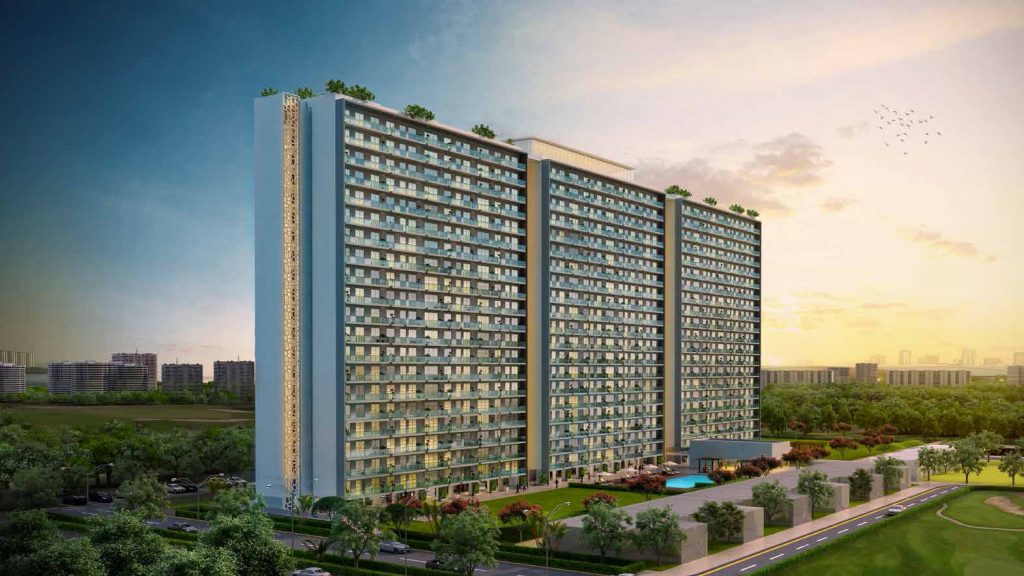 Godrej Suites are one of the luxurious property which is newly developed in Sector 27, Greater Noida. The project adds more to the necessity with a 100 acres township development. It has 1 BHK and 2 BHK fully-furnished studio apartments that serve the needs of investors and buyers. The project will soon be ready for possession and it makes great sense to buy the brand new developed project. The well known project comes with a built up area of 710 sq ft to 1450 sq ft. It has total of 660 apartments that makes less people per sq area adding more of a breathing and living space. Gaur City 14th Avenue location / Gaur mulberry mansions location / Gaur City 7th Avenue location
Godrej Suites comes with a 5000 sq meter club house. It comes with well connected Noida – Greater Noida Expressway and also with a metro connectivity that makes it easy for buyers and investors to reach the project with ease. The project has high ceiling that makes the home look big and add more with length and breadth. The project adds with studio apartments which is planned all according as the futuristic studio apartments. The project comes with excellent natural surroundings that gives easy reach to a fast life with all necessary and modern amenities. The project comes as a great development with state of the art IT commercials from Godrej. Soon it will have retail space and office complexes which will help people to stay, dine and work near to home adding more to luxury.
Godrej Suites comes with UP RERA specifications and has 9 hole golf course. It has expansive master golf course club house. It has landscaped deck in the living room. The project is fully furnished 1 BHK and 2 BHK studio apartments. It has high street retail, expansive golf club. The project has private miniplex with lounge and premium concierge service. The project has VRV/VRF air condition, golf park, private elevator, walk in closet and drive in cinema. These are some of the extensive list of features. The project has Himalayan range of practice academy. It has lifetime golf course view that gives stunning visuals of landscape greenery. It comes with designer kitchen with the built in appliances and come with private party terrace deck.
The project comes with close proximity to Jewar International airport. It is connected with 3 major expressways which is as Taj Expressways, Noida – Greater Noida Expressways, FNG Expressways. It is 2 minute from the upcoming Alpha II metro station, knowledge park, Delta 1 metro station and the landmark Pari Chowk within proximity.
The project has 1 BHK with 710 sq ft, 2 BHK with 975 sq ft and 2 BHK with 1450 sq ft. The project has all the necessary aspect in terms of lifestyle and eco friendly environment. It creates a great home for the buyers and the exclusive advantage of staying in a Godrej project adds to the lifestyle. The project adds with more than international appeal that adds to comfort with great environment and makes you feel of stay in a resort or nature's lap.