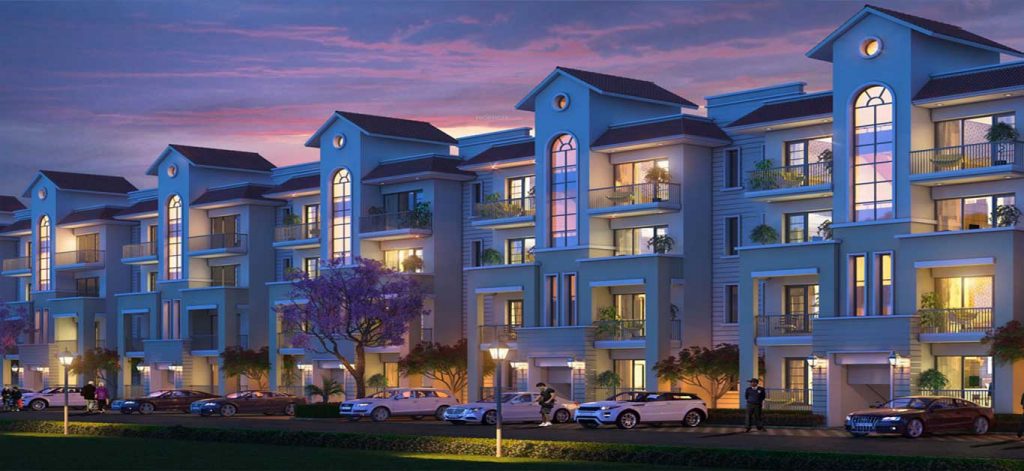 M3M Smart World is one of the first residential project by Singapore based real estate company. The developer has come up with low-rise independent floors project. The project adds with 2.5 and 3.5 BHK residences and is at Golf course extension road. It comes with an astonishing price of Rs 1.25 Crore onwards. The project is just opposite to Grand Hyatt at Sector 61 which adds to neighborhood which is class apart. A Five star hotel within close proximity makes the development looks very different and adds to good number of necessities, specifications. The project offers 25 acres of land with greenery and has 400 total units. It comes as stilt + 4 floors with dedicated terrace, basement, home offices. It has well develop parking space, security and greenery that makes it with lots of difference. Plots in Gaur Yamuna City / Nirala Estate Phase 1 / Nirala Estate Phase 2 / Nirala Estate Phase 3
M3M Smart World has fully furnished luxury homes. It has swimming pool with all the modern amenities. The development adds with 3 tier security. It has 20,000 sq ft of lavish clubhouse. The private workspace is beautiful and elegant and it adds with private terrace. It has car parking which also offers EV charging stations that makes the car aficionados feel great. It has more than 50+ world class amenities that gives the home full of luxury and necessities. The developer creates homes with much of the futuristic feels and makes the living standards with good set-up. It creates with an ambience that is fulfilling and inspiring. It lets you enjoy with much of the privilege and thus is residences that is according to world standards.
If someone is new with M3M Developers it is one of the best in terms of residential and commercial property at Delhi-NCR. The developer has come up with residential and mix-use developments. It has premium amenities and offers residences with good number of lifestyle needs. The project creates lush green central landscape and has best of the nature. It comes with strategic design and the architecture matches world class. The development is according to the parameters that is set with seismic zones. This makes the home with resistance towards the earth's most dangerous seismic effects. It thus puts all emphasis on creating homes which are safe, secure and stylish. It does not only creates homes but adds with better lifestyle.
M3M Developers has project highlights that makes much of the difference and it adds with elegance. It has fully air-condition residences, low rise condos and security system. It comes with work space, grocery shops. The project has nature-friendly ecosystem, beautiful designs. It has swimming pool, club house, unique architecture facade, premium-in house specifications. It has badminton, table tennis court, amazing art work, easier metro connectivity. It comes with floating sauna and scenic pool, VRF/VRV air condition, modular kitchen with European style, Italian marble floors and multipurpose hall. The project is with one of the most beautiful location with scenic landscape. It is near the Aravali range of Himalayas and it comes with idyllic landscape that creates beautiful accommodation with sultry developments.