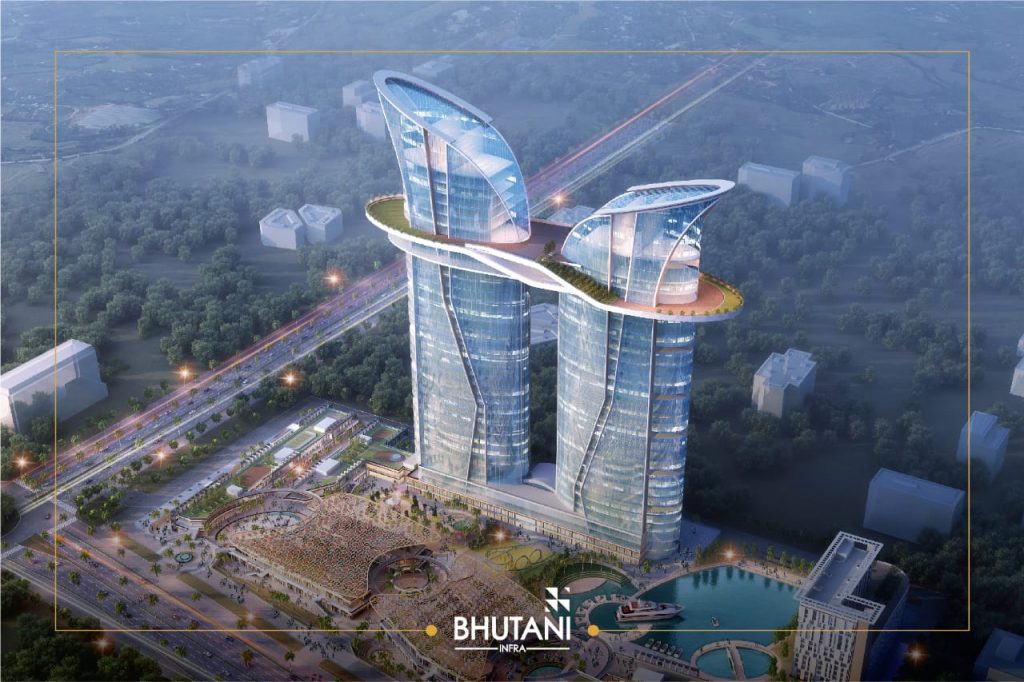 Bhutani Grandthum has bridge the gap between the luxury and necessity in office and retail infrastructure. Earlier while the office spaces were only confined to cubicles with no lifestyle and amenities. Now it has changed with food courts, luxuries and even multiplex within the office infrastructure. Bhutani Grandthum has bought us the best of the blend of hospitality, redefined structure and also as a contemporary space matching your own lifestyle. Bhutani Grandthum has been made as a marvel that offers multi-spaces which stands local but certainly a global standard iconic structure. Bhutani Grandthum is an iconic structure that is made as a twin tower design that fulfills the need as an office space. Bhutani Grandthum / Apartments in Ghaziabad / Property in Yamuna Expressway
Bhutani Grandthum is also one of the best double level figure eight design which comes as retail and entertainment spaces. It is also a stunning dining space that looks like an inspiring yacht in the water. It has unhindered a new lifestyle which comes as walk-able footprint or rather a condensed footprint that invokes the spirit of walking as the best form of life. Bhutani Grandthum is having some significant aspect as a complete retail destination with thrilling and enjoyable experience at the adventure island as an amusement park. Bhutani Grandthum is also having best of the features that makes it a perfect place for short family breaks and is an answer for the shopaholic in you.
Bhutani Grandthum has got best of the ambience that is seen in its architectural brilliance and it also has water showers that is located within the shopping center. It helps you to relax in the open air and also makes you feel mesmerized with more value because of the mix of land water and air creating a confluence. Bhutani Grandthum adds as a shopping arcade with more than 100 outlets that also includes Food & Beverages retail outlets. Bhutani Grandthum has on offer a multi cuisine food court which offers fine dining and also let you enjoy speciality of snacks as it has numerous restaurants in different sections or floors.
Bhutani Grandthum also has rides on offer which are imported from the leading European companies and are supplied by Disney and Universal Studios. Some of the amenities related to Bhutani Grandthum are as food court and fine dining restaurants, hypermarket, multiplex, shopping arcade, anchor spaces and also office spaces on offer. Bhutani Grandthum has been developed as a remarkable office and shops infrastructure that is a retail icon which also has leisure, retail, entertainment within a tower that has total of 36 levels. Bhutani Grandthum has also an observation deck which is at the 28th floor with 360 degree panoramic view.
Bhutani Grandthum comes with vast range of facilities that makes it easy for the well heeled businessmen and working professionals. It also has vivid light display and it brings a good sense of energy and makes you feel active in any situation. One could certainly understand that it has bought a real sense of energy into the contemporary culture and the good concept of "Water and Yacht" takes you to close resemblance of the Bhutani existing brand entity.