Gaur Saundaryam is residential project which comes as 3 BHK residential apartments with best of location at Noida Extension. The project comes with beautiful lifestyle amenities, better specification and with sweeping vistas. The entire apartments are sun drench and with better ventilation. The house are spacious and gives you a better way to live with your dream home with green landscape. The project comes with 3 bedrooms, low rise apartments that comes with world class amenities making it an enriching experience. The development certainly uplifts your moods and adds with senses that comes with best of the architectural design that adds to its advantages.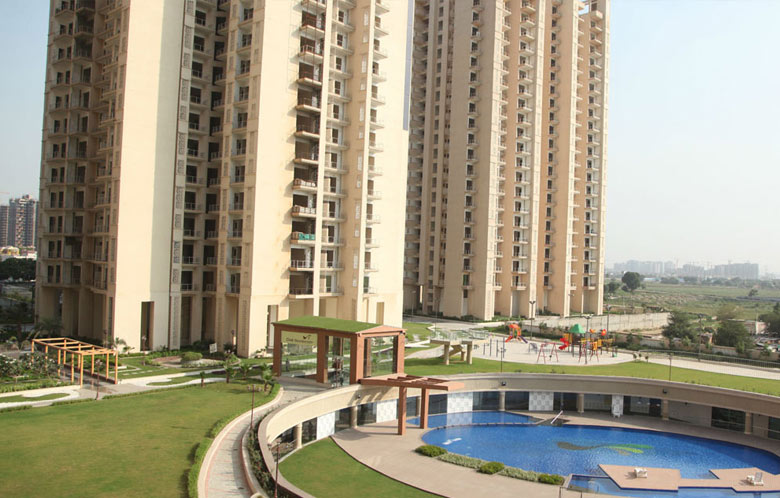 Gaur Saundaryam Master Plan offers homes with traffic free ground floor that creates resort like ambience. It has clubhouse with approximately 50,000 sq ft club and double to triple height homes. It has better lifts and better floors that adds with two level basement mechanical parking along with expandable parking space. It adds to future requirements that has green building with gold rating certificate. The project has building that contains double height lobby and comes with cover landscape at ground floor. It has apartment design with extra floor to floor height up to 11"0. Each of the building contains drop of plaza with covered porch.
Gaur Saundaryam is one of the first residential project in GNIDA that has 130 meter wide road and also faces 100 meter wide green belt. It has propose metro station within close proximity and has three tier 24*7 security. It has CCTv cameras and video phone within every apartments. There is wi-fi enable complex, cricket practice pitch, swimming pool, kids pool, rain water harvesting system. It has amphitheatre, landscape court, entrance plaza and the project has green building with pre-certified gold rating. It has traffic free ground floor that gives resort like ambience. It makes one of the perfect homes that has all the very best lifestyle necessities.
Gaur Saundaryam is within location at Greater Noida with easier proximity to Delhi. It is within close destination to Ghaziabad, Noida and Hapur. It has 6 lane FNG Expressway that comes with far more affordable and with convenient nature than other locations. It adds with organic waste decomposition plant that is one of the first in a project. It adds to better environment and makes life more suitable for residents. The project has rain water harvesting system, storm water drainage system that gives ease to residents.  Gaur Saundaryam has best of the amusement area that adds to various indoors and outdoors games. It has best of the gaming options as table tennis, chess, carom, badminton, volleyball and cricket ground. It has squash court, billiards and basketball that makes it with best of the recreational purpose. It has homes with area of 3 BHK with 1700 sq ft, 3 BHK with 1850 sq ft and 3 BHK with 1990 sq ft. The project is spread in area of 18 acres and has total of 13 towers. It has total of 2068 flats and with Ground + 22/28 floors that makes it an ideal project for purchase. Buy More project Nirala Aspire Low Rise Site Plan, Mahagun Medalleo Price List