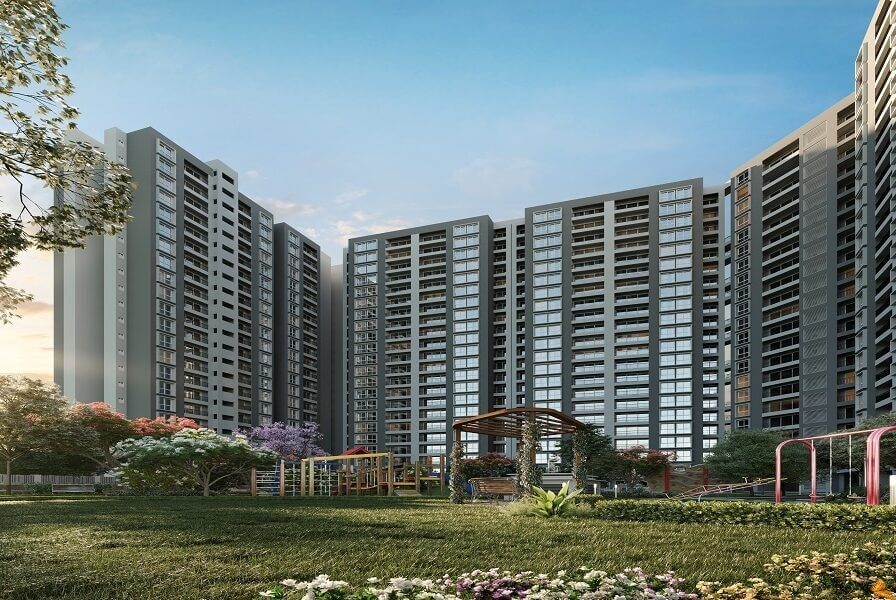 Godrej Nurture is residential project lets the residences feel with happiness and fulfill their lifestyle needs at great prices. The residences makes it one of the best with peaceful location. The residences adds with total area of 6.51 acres of land and has total of 80% open space. It adds with 5 high rise towers and has 22 and 28 floors respectively. The residences has total of 313 apartments and comes with 10+ exclusive amenities. It allows you to nurture life and make the home a happier and healthy place to live. It gives a fulfilling atmosphere within the homes that helps you to enjoy with prosperous lifestyle. Artha Mart / Civitech Strings / eros sampoornam Phase 3 / Apex Golf Avenue 2
Godrej Nurture adds with 2 BHK, 3 BHK and 4 BHK homes which makes you feel close to nature and it adds with sense of pride. The residences comes with homes that are with pristine surroundings and eco-friendly atmosphere. It has homes with area of 1255 sq ft and up to 3027 sq ft that comes with good number of lavish amenities. It adds with homes that has best of the specifications and lets you feel with presence of a swimming pool. It adds with jogging tracks, gym, fitness and health clubs, yoga centre, community hall, children playground, sports arena and many other facilities.
Godrej Nurture has 9 acres of central park, WFH provision, international size tennis court, thoughtfully design exclusive club house. It has yoga and meditation area, international standard cricket academy, 9 holes golf course. It has creche, e-library, music training school, basketball court. It adds with 10+ exclusive lifestyle amenities, sports academy. It has miniplex for kids with movie screening. The project has 24/7 security tie-up with tops security. The project has amenities as Futsal, International standard cricket academy, cricket pitch, Lego room, swimming pool, astronomy park, dance class, yoga and zumba. The project fulfills the wish to enjoy great lifestyle needs and makes it one of the most happening project for buyers.
Godrej Nurture as project is easy to reach as it connects with best of the highways networks. It has nearest Noida metro station at It connects with Noida-Greater Noida Expressway, Yamuna Expressway towards Jewar International airport. With location at Sector 150 Noida Expressway it is nearest to the upcoming project. Godrej Nurture has 2 BHK homes with area of 1255 sq ft to 1549 sq ft. It has 3 BHK with area of 1907 sq ft and 2330 sq ft. It has 4 BHK with area of 2697 sq ft to 3027 sq ft. It has best of the home configurations that makes it easy to select homes according to the needs and specifications. The project makes it one of the most significant homes that has residential area with definite proportion. It is one of the homes with rarest luxurious environs and makes it low density, best infrastructure and with visible greens.
Godrej Nurture adds with some of the project highlights with Italian marble, modular kitchen, ac's within all bedrooms. The project offers earthquake resistant structure which has MIVAN form aluminum shuttering to add safety.